The ultimate dichotomy of innocence and seduction.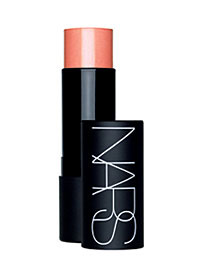 Wenn d a s mal kein heisses Versprechen ist… 🙂
Der neue Frühjahr-Look von NARS COSMETICS heisst Shanghai Lily und bringt eine Fülle von herrlichen zarten Apricot-Tönen, die alle "Haben-Muss!" schreien. Ein sehr tragbarer Look dieses mal, rosig und zart wie ein Pfirsich zum Anbeissen.
Zum Look gibt es einen neuen Zauberstab 😉 The Multiple, das ist sowas ähnliches wie ein UHU-Klebestift von der Form und Benutzung her, bloss zum Verschönern statt zum Kleben.
Ich will mir schon lange so einen Silikonmonster kaufen, weil sie total praktisch sind. Man kann die als Lippenstift nehmen und auch als Eyeshadow, und man hat elich den passenden Rouge dabei. Die Textur ist sehr leicht. Bisher gab es aber keine richtig gute Frabe um mal eben knapp 35 Euro (geschätzt…) zu verschleudern.
Mit ORGASM ändert sich das 😀 das ist die Kultfarbe von NARS schlechthin, das meistverkaufte Produkt des Herstellers – allerdings als Blush.
Wie man da ran kommt? In Grosstädten erhältlich – die netten Verkäuferinnen aus dem Alsterhaus in Hamburg und den sonstigen Luxuskaufhäusern schicken die Sachen gerne auch zu.